Best-kept Secret
No Membership Fee; No Monthly Subscription

Pay by Class or Packs; Real Value for Money

Call or Email now to try at $100 ONLY
2C Welley Bldg.
97 Wellington St.
Central, Hong Kong
tel: (852) 2982 4308
email: Yoga Central
Opening Hours
15 minutes before & after classes – see Classes-Schedule for details
Yoga Central is the first yoga studio nested in Central, Hong Kong since May 1999. It continues to uphold its reputation as a sanctuary for effective yoga practice with personalized care and attention to students, and quality workshops with international teachers. We cater for students from all walks of life – our Iyengar-based yoga welcomes any body types and all ages from 8 and above.

The studio is fully equipped with mats, blocks, blankets, wall ropes and chairs. Bring your exercise clothes and join our classes to enjoy the serenity and peace in the heart of vibrant Hong Kong!





Follow our regular updates on Facebook or Weibo:
NEWSLETTER
We publish an e-newsletter every month. If you like to receive it, please email us and we will add you to our mailing list!
May 2014 Newsletter
Play in practice, lunch time special, yoga and mindfullness... MORE
2-hr Restorative Yoga in Iyengar Way - last Friday of the month 7-9pm by Karen - next one on 26-Sept
Continuous exclusive cooperation with CancerLink previously for recovered patients to enjoy Iyengar Yoga with the objective to restore and relax body & mind in addition to detox. Now open workshop to all at end of month only.
Fee: $250 per session; max. 18 students per workshop
Jawahar Bangera Workshop Oct 1-4 at HKIS & General Class at Yoga Central-Iyengar Central Oct-5
see Facebook Page: Iyengar-Central or email to enquire
3-hr Workshop - Menstrual Yoga Practice - How to Reduce and Avoid menstrual pain and discomfort? by Annisa Tong
Fee: $500 incl. notes; fees paid non-refundable.
Latest News
Kung Hei Fat Choy/ Gong Xi Fa Cai!  All classes resume.

2014 Training with Peter Scott (Chinese transl...
Mark your calendar for below events at New Studio:
24-Jan Fri 7-9pm Detox with Twists 1-hr free Led Practice f...
Exciting trial offer of Unlimited Monthly Lunch Yoga pack at $1,180 per each calendar month.  Come as many times as y...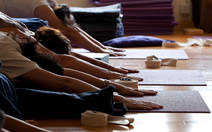 2-hr Restorative Yoga in Iyengar Way - last Friday of the month 7-9pm by Karen - next one on 26-Sept
Continuou...